X-Rite Photowalks at Photokina in Cologne
by Brenda K. Hipsher – September 15th, 2012
We're packed and ready to fly to Germany for Photokina and we hope to see you there! This is your invitation to join two great photowalk events we have scheduled just for you!  X-Rite Photowalks at Photokina are a great way to learn and have some fun while you walk the streets of beautiful Cologne. And if you enter your photo you could win great X-Rite prizes including the NEW i1Photo Pro 2.
Each walk is a guided walking tour through the city of Cologne that focuses on teaching participants to take better photos. After a brief lesson on white balance and camera profiling, your guide will escort the group along the route, giving photo tips along the way. At various points along the tour, participants will be given the opportunity to explore an area with their cameras for a period of time, using their newfound knowledge.
When and Where?
Session 1: Wednesday 19th of September @ 5 pm Starting Point (Köln Tourismus Information center in front of the main entrance to the Cologne Dome) with Jens Petersen & Thomas Kunz (Language: German) Shooting in the Historical Center of Cologne
Session 2: Thursday 20th of September @ 5 pm Starting Point (X-Rite Booth at Photokina, Hall 4.1 Stand/Booth: H020 – I029 with Adrian Weinbrecht & Thomas Kunz (Language: English) Shooting along the Rhein river
How do I WIN?
Participants are encouraged to enter our Photo Walk Contest. Simply select one final image that was taken during the walk and send it to the photomarketing@xrite.com email. Adrian Weinbrecht and Jens Petersen will judge and select 3 winning photos that will receive the following prizes:
Who should join?
All levels of photographers are welcome. Just bring yourself and whatever you shoot with. Tour is limited to first 40 registered walkers! Register Today.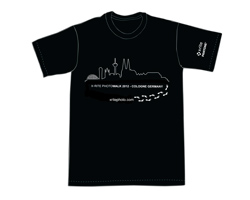 What's the cost?
It's Free! Register Today.
What Else?
Each participant receives an X-Rite PhotoWalk t-shirt (choose size when registering)
Each participant eligible for Photo Walk contest
Tour Details
Each tour lasts approximately 2 hours
Tours do not start and end in the same location
We've set up a Flickr group for you to share your images as well. Click here and share your shots with all your friends. Remember to follow X-Rite Photo on Facebook and @xritephoto on Twitter to keep up with all the latest from X-Rite. It's going to be a big week at Photokina! Be sure you get all the info as it happens!